Willow Park - Takeout
Thank you for your takeout order . . . we are delighted to cook for you! In addition to Willow Park Golf & Country Club's already high food safety practices, in this time of heightened health vigilance and self-distancing, Chef Monty and his team remain meticulous. Know they are sanitizing kitchen equipment on a continual basis, wearing protective gloves & masks, minimizing staff and staff contact. Enjoy your Willow Park meals, without worry.
Winter Takeout Hours: Thursday thru Sunday from 4 - 7:30 pm.
Hours may be adjusted with poor weather conditions.
From time to time we may close the dining & takeout services for a private event or a large Willow Park event.
Please note:
On Friday, December 10th, there will be no clubhouse dining due a private event. Takeout will be available until 7 pm.
On Saturday, December 11th, there will be no clubhouse dining due a private event. Takeout will be available until 7 pm.
Ordering: Please call the Clubhouse at 403-271-4231 ext 8. Takeout food can be picked up in the clubhouse or delivered to your vehicle if you are still a little uncomfortable with indoor public spaces. Please let us know if you would like to pick up inside or outside.
Payment: Payment can be made by credit card at the time of order. No cash payments will be accepted. Orders may also be charged to member accounts; no signing is required. A 15% service charge will be added on to all orders.
Offerings: Takeout is available to both Willow Park members, as well as friends and neighbours. Spread the word!
Menu: Several gluten free choices are offered and indicated GF on the menu. We would be pleased to prepare a custom menu for specific allergies.
Have a look at our mouthwatering 3-page menu below or Click Here for a printable version. Please note - there are a limited number of items on the menu that may not be available for takeout.
Saturdays: Saturdays are special at Willow Park in November & December. In addition to our regular menu, experience Chef Monty's exquisite flair for Indian Fare . . . This menu is available on Saturdays only. Click Here to view the menu or scroll down to view.
Pick Up Christmas Dinner on Thursday, December 23rd: Don't feel like cooking Christmas Dinner this year? Let our Chef do it for you! Pick up on Thursday, December 23rd. Click Here for more info or scroll down to see the menu.
Take Home Beer & Wine: With takeout food orders, we now offer the option for you to order a bottle of wine, bottles of beer or canned pop to bring home with you while enjoying your meal. Scroll down to view beverage options or Click Here for a printable version.
---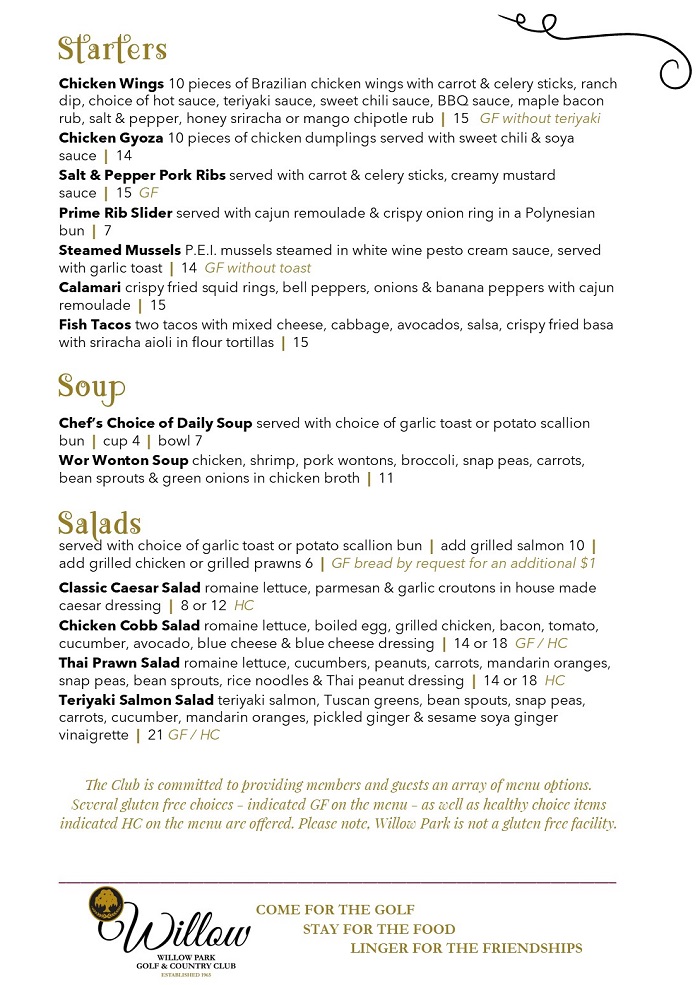 ---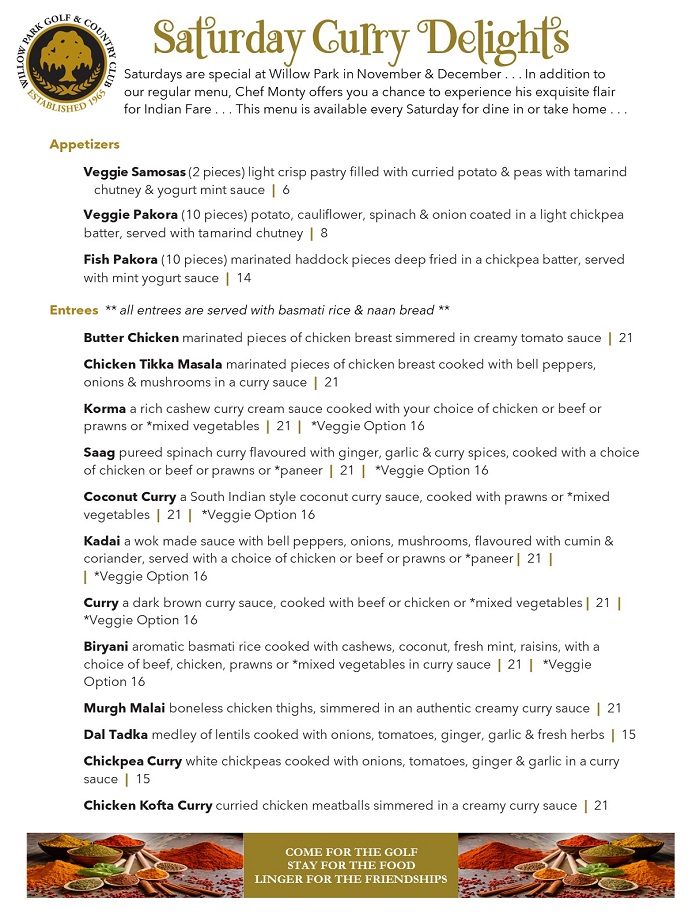 ---