Willow Park - Takeout
Thank you for your takeout order . . . we are delighted to cook for you! In addition to Willow Park Golf & Country Club's already high food safety practices, in this time of heightened health vigilance and self-distancing, Chef Monty and his team remain meticulous. Know they are sanitizing kitchen equipment on a continual basis, wearing protective gloves & masks, minimizing staff and staff contact. Enjoy your Willow Park meals, without worry.
Kitchen Hours: Daily from 11 am to 7:30 pm. Please note hours may change if the club closes early due to weather or any other unforeseen circumstances.
Ordering: Please call the Clubhouse at 403-271-4231 ext 8. Takeout food can be picked up in the clubhouse or delivered to your vehicle if you are still a little uncomfortable with indoor public spaces. Please let us know if you would like to pick up inside or outside.
Payment: Payment can be made by credit card at the time of order. No cash payments will be accepted. Orders may also be charged to member accounts; no signing is required. A 15% service charge will be added on to all orders.
Offerings: Takeout is available to both Willow Park members, as well as friends and neighbours. Spread the word!
Menu: Several gluten free choices are offered and indicated GF on the menu. We would be pleased to prepare a custom menu for specific allergies.
Have a look at our mouthwatering 4-page menu below or Click Here for a printable version. Please note - there are a limited number of items on the menu that may not be available for takeout.
Saturdays in April: In addition to our regular menu, on Saturdays, Chef Monty offers his special 'Saturday Curry Delights' menu, also available for take out. Click Here for a printable version or scroll down past the regular menu to view.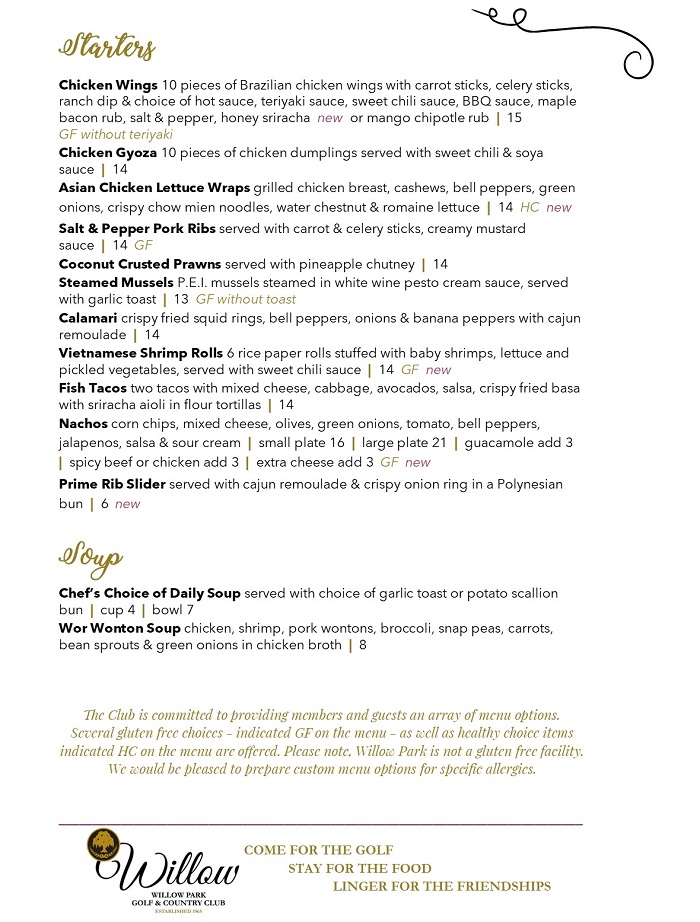 ---